Doing a quick google search of female artists pulls up a variety of sources, primarily young, white actresses and singers. Minorities are heavily ignored in the art world, but many people are coming into the foreground and ther woman I stumbled upon is Ana Mendieta. She was a Cuban-American artists who died under mysterious circumstances, which only adds to the mystery of the affect her art could have had.
Her primary inspiration for her work was the human body, and she often used her body as a model for her works. Her work has a witch like quality, utilizing sticks, mud, and naked bodies in rituals. She rose to fame in the seventies, where many were shocked but pleased with the work she created. Her original works, originally valued at several thousand dollars, now sell for nearly half a million. But, she isn't here to create any more work, and that reason has been contested by many.
Ana was in a relationship with sculptor Carl Andre. The two worked on art together, but he was ultimately charged for her murder after she mysteriously fell to her death from the 34th floor of their apartment. He claimed she was suicidal and wanted this to happen, and he was tried and eventually acquitted for the crime. This is an incredibly unfortunate way to bring her work unto the spotlight, but her work really is something.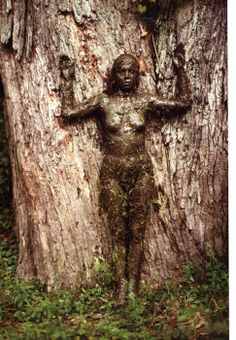 She was a feminist, and firm believer in the beauty and power of the female body. Her pieces are gritty, realistic, and unkempt. She reveled in the beauty of Mother Nature's work. As she noted ,"'My art is grounded in the belief of one universal energy which runs through everything.'" Her death was a tragedy from several standpoints. Firstly, the circumstances were mysterious and suicide was highly unlikely, but there was no evidence to prove otherwise. Secondly, as previously mentioned, minority women are hard to come by in the art world dominated by white men, followed by white women. Her death and the loss of her artwork for such a period was a huge loss to the art community, in my opinion. It's important for young girls to have a diverse set of role models, to know that they too can be successful as immigrants, Latina, and women. Representation is something to be taken seriously, and to have successful women like this be taken out of the spotlight to highlight yet another sculptor is somewhat disappointing. The public was, however, fairly easy to move on and forget her work. Ana did have a group of supporters, but they were all branded as "radical feminists", when most were abused or tortured women who felt inspired by the pieces Ana created.
Ultimately, Andre's image suffered only slightly in light of the trial. He is still one of the more well known male sculptors, living a quiet life in his old age. But, now Ana has come back into the picture and so many have taken notice. The Hayward Gallery, in London, shed light back on her work in 2013. They even celebrated the anniversary of her death. She was on the radar of many curators, including Mary Sabbatino. Guelda Voien writes that Sabbatino was astonished by the work, and wondered why it hadn't been shown. Rosa De La Cruz holds the largest collection of Mendieta's work, at 24 pieces. De La Cruz is so lucky to own such powerful pieces, and more and more pieces are being discovered by Ana's niece and other art historians. Her films are being shown in California and Florida in early 2016. While she wasn't in the art industry completely for the fame, she deserves all the attention, in my eyes.
Going back to the death of Mendieta, Andre was greeted by so much support, it was astonishing. Funnily enough , Andre's lawyer Hoffinger opted out of a jury for fear that women would be swayed by their feminist views to declare him guilty, despite all the questions surrounding her "suicide." The trial was essentially creating the narrative of an impulsive, dramatic, overly emotional women who was fed up with her life. Powerful feminist art group Guerrilla Girls noted that this was an issue of minority women versus powerful white men, who wanted to move her to the background so Andre could remain in the foreground, which he did for several decades. Andre was protected from beginning to end, and many still find no foul play. He had a solid pool of supporters who still defend him to this day. His work is widely shown and widely applauded, and his latest installation is showing until the beginning of December, with a huge turnout.
Ana would be proud to see the crowd of proud female artists rallying, crying for her, wishing she could still create beautiful work. Andre has moved on, and is living on just fine. He did take a small break from the public, but stories come and go and time passes and new art and artists took her place. I'm incredibly happy that her work is still being discovered and shown, because it is incredibly important to give a voice to the disenfranchised and misunderstood. Ana was seen as eccentric and dramatic. Growing up as a lonely child from Cuba, from a time where Castro ruled, she had so much pain and grief to work with. Her death will not cease to be tragic, but whether horrible accident or murder, she was silenced far too soon. Article: http://observer.com/2015/11/three-decades-after-her-sordid-death-ana-mendietas-work-is-finally-getting-its-due/
(Visited 56 times, 1 visits today)